Richard and Geraldine Akers with ZEMA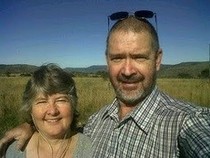 PAUSE….to pray for a miracle in our day….
Sometimes God's work advances secretly, quietly, with baby steps, but  it is purposeful and unstoppable.
Sometimes God's work advances through big bold moves, epochal moments when God's people grab an opportunity with both hands and
usher in a whole new reality.
We have seen God use both ways…..so much of what ZEMA does is kind of repetitive, without fanfare, certain but slow, kept going because WE DO SEE those glimpses of God's fingerprints, and we know He is at work, but then every now and again we see a BIG MOVE that catapults the ministry among the amaZioni ahead as we seem to leapfrog normal expectations:
* It was a BIG MOVE when the first FULL TIME missionary family began full time work among the amaZioni in 1986.This move said to the amaZioni 'you  have been rejected and sidelined for so long , but you DO HAVE VALUE TO GOD and we will invest in a relationship with you'…..the results of that BOLD move continue to bear BOLD fruit today
* It was a BIG MOVE when ZEMA started a Bible and Church Administration course which was open for ALL AmaZioni….even for those who were still bound by Traditional beliefs….attendance at this school did not require salvation and it was while at the School that many amaZioni HEARD the Gospel for the first time and RECEIVED the Gospel and then took that same Gospel back to their own people
* It was a BIG MOVE when ZEMA recognised that holding the work among the amaZioni to itself, presuming that western type missionaries could get the task done was a project doomed to fail, but by drawing amaZioni alongside the missionaries, encouraging them to see that this work was as much THEIR work as it was OUR work was a BOLD MOVE, and so it is today that there are far more local African teachers building on the past than western type missionaries…..It was a BOLD MOVE and the fruit of this move is EXPECTED to carry this work far into the future.
AND RIGHT NOW…THIS EASTER…..we stand again at the moment of what could be the biggest, boldest move of all !  Many of you know that the ZION movement in Southern Africa is very fractured…there are literally THOUSANDS of different  denominations…….disunited and splintered…..on one side many with a total membership of less than 100 believing themselves 'different' from all the rest, and on the other side those 'MEGA DENOMINATIONS' with MILLIONS of members.
One such MEGA DENOMINATION is the ZCC….that group numbering many millions who are best known for their HUGE gatherings at Easter time. They are also known for following some internal traditions and not really believing that the Bible is where all our teaching is found. Over the years we have had a few ZCC members attend the Bible classes but they very seldom stay as the Bible begins to throw light on their other traditions. There have been people praying FOR YEARS that we could find a way among the ZCC….to bring the light of the Gospel where now there is darkness.
GOD MOVING THROUGH THE ZCC WOULD CHANGE THE FACE OF SOUTHERN AFRICA…..and we  believe that it might be God's time for another BOLD MOVE….
Over the last number of years one of the ZEMA missionaries, Paul Seelhammer, has been visiting and ministering in the Vhembe area….right smack among the greatest % of ZCC churches and little by little, quietly, unobtrusively, has been building a team and gaining the confidence of local ZCC pastors to the extent that this year Paul and others have been invited to meet with the leader of the ZCC and present the case for Bible teaching….simply put….if this 'goes well' an unprecedented door will be opened……this is a BOLD MOVE which needs to be smothered in prayer and we invite you to make this part of your prayer cycle until after Easter  ….in this generation we could see God move in an amazing way changing the whole sub-continent.
Now there is much against this meeting…..we know the evil one won't be cheering this meeting on……Coronavirus may well lead to the cancellation of the ZCC Easter meetings (they have reguarly counted those gathering in their millions) ….and any number of things could break down (it is reported that the leading Bishop only allows people to consult in this way if he has received a vision of approval) and so some might ask 'what if instead of going well it all goes wrong ?'…..well, in God's Agenda, we believe it will work for HIS GLORY no matter what we see in the physical realm.
Now you may not understand this all (sometimes we don't) You may not be sure what to say as you pray (that happens so often) You may not know names and places (some of them are difficult to pronounce)…..that may all be true BUT WE CAN PRAY 'GOD,  OPEN DOORS TO THE ZCC.
GOD PROTECT PAUL AND THE OTHERS WHO GO'
God, SOFTEN THE HEARTS OF THE LEADERS
GOD KNOWS THEIR NAME GOD KNOWS WHERE THEY ARE AND GOD KNOWS WHAT THEY NEED.
We will let you know what happens,
Richard and Geraldine
For more information about the Akers, please visit their blog or website.
---
Bill & Cindy Hoppe are Awana Missionaries to NE Minnesota, NW Wisconsin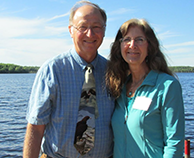 Bill grew up in Grace Missionary Church. He trusted Christ as Savior in his first year of being an Awana Pal. When he entered 9th grade he also began serving as a Student Leader in Awana at Grace. Bill and Cindy were married at Grace in 1977. They both actively involved in Awana and other ministries here.
Bill began a career in the Postal Service spending the first 13 years as a Letter Carrier in Zion, before being promoted to Supervisor, and ultimately to Postmaster in Russell IL. In 1998 Bill became a Postmaster in northern Minnesota. He retired from the USPS in 2012, to become an Awana Missionary.
Bill and Cindy Hoppe have seven children, all of them whom were active in Awana. Bill and Cindy believe in the Awana Club Ministry, and each has served over 40 years as volunteer leaders in local churches.
Upon Bruce Brumfield's retirement as the Awana Missionary serving Grace Missionary Church, Bill requested assignment to his "home church" and has been representing the Awana Ministry here ever since.
You can contact Bill and Cindy at PO Box 272 Keewatin MN 55753. Bill's cell phone is 218 256-0875 and his email is williamh@awana.org. Cindy's are #218 256-9010 & hoppefamily9@gmail.com
---
Jon and Lauren Emmanuelson with ZEMA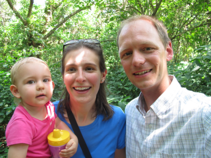 Lauren and Jon met while studying at Trinity Evangelical Divinity School in Deerfield, IL. Lauren grew up in Port Washington, WI, and attended Friedens Evangelical Free Church. Jon grew up in Zion, IL, and attended Christ Community Church. They both had a passion for missions before they met at Trinity. They arrived in South Africa as missionaries in December, 2010. Their daughter, Liesl was born in Beacon Bay, South Africa in 2011.
The Emanuelsons live and serve in King Williams Town, South Africa. They are learning the Xhosa language and culture and are involved in amaZioni ministry. The language learning techniques learned at Missions Training International before leaving for South Africa have been a huge help.
"We are so thankful for the privilege of being called to share the gospel among the amaZioni in South Africa. We are living in King William's Town, where we work alongside a fellow ZEMA missionary family, the Goosens. One of the ways that we are reaching the amaZioni with the Gospel of Christ is by training amaZioni leaders through Zion Evangelical Bible Schools (ZEBS). There are currently eight ZEBS that we and the Goosens oversee in the Eastern Cape and three in the Western Cape. Along with the Bible School ministry, we offer a discipleship course called 'This We Believe.' Our main task is language and cultural acquisition as we study the Xhosa language. Attending amaZioni services is an important way of building relationships with the amaZioni people and their leaders. It is also an opportunity to share the news about the Bible Schools and discipleship classes."
Prayer Requests:
Pray that we will learn the Xhosa language and culture well so we can more effectively share the Gospel Message of our risen Lord.
Pray for us as a family that God will bless, protect, and guide us as we serve Him.
Pray for all the amaZioni we are ministering to, that they will become disciples of Christ. Pray also for those we haven't been able to reach, yet, that God will open those doors.
For more information about the Emanuelsons' ministry, please visit their blog or website.
---
Greg & Carlene Seghers with ZEMA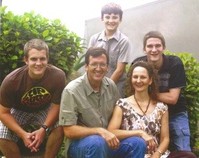 Greg, Carlene, Ryne, Corbin and Kyle Seghers serve at the Sunbury Christian Camp, South Africa. The Seghers' ministry includes administration of Zion Evangelical Bible Schools (ZEBS), teaching, discipleship, children's ministry and serving as part of the Sunbury committee that oversees the running of the camping facility.

Exciting News:
We had our largest ZEBS ever this past weekend at Sunbury.  There were 151 students participating in our school!  We are getting ready to spend two and half months in the US.  We hope to see many of you!  We are loving being grandparents!  We are really looking forward to spending time with Corbin and our families in the US.  We are pursuing something we've never tried before.
–  –  –  –  –  –  –  –  –  –  –  –  –  –  –  –  –  –  –  –  –  –  –  –  –  –  –  –  –  –  –
A God Ordained Encounter
While traveling to a Zion service on Easter weekend Greg stopped at a petrol station to fill the baakie.  There he happened to meet a man also filling his vehicle.  Manziwokuphila Zwane was a student at Sunbury ZEBS in 2004, but had to stop because of his work schedule.  He said he'd just been speaking to his wife because he wants to study again and finish what he'd begun.  This month Manzi began attending the Sunbury ZEBS and is also traveling each Thursday to the ZEBS in KwaMashu to finish his studies.
–  –  –  –  –  –  –  –  –  –  –  –  –  –  –  –  –  –  –  –  –  –  –  –  –  –  –  –  –  –  –
A Wildest Dream
We felt strongly that God was encouraging us in our ministry, to include educating and motivating people to consider God's plan for the sexual relationship.  During the past couple of years the Lord has given us more opportunities to encourage and disciple couples and individuals, to protect themselves and choose to live by a godly standard in relationships.  We have been developing a Bible Study and have entered into a competition which could get us published with a reputable author as our mentor!  Check it out at CrowdScribed.com.  We'll keep you posted and let you know when the voting can begin!
Prayer Requests
Pray for those covering our ministry responsibilities in our absence: Umfundisi Khuba, Umfundisi Shobede, Umfundisi Mbonambi, Marius Swart. Pray that God would bring many Zionists to know Him.
As we travel separately to the US and then travel to visit family and churches, pray for safety. Pray also that we would be a blessing and the body of Christ built up and unified as we find fellowship and family time together.
Pray that as we pursue the possibility of publishing  Redeeming Sexual Love, that God would be glorified and many encouraged and grow in health, in their relationships with one another, and with Him.
–  –  –  –  –  –  –  –  –  –  –  –  –  –  –  –  –  –  –  –  –  –  –  –  –  –  –  –  –  –  –
1 Timothy 1:17
Now unto the King eternal, immortal, invisible, the only wise God, be honour and glory for ever and ever. Amen.
---
Mark & Ruth McDowell, OMF, the Philippines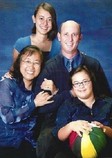 Mark is the son of Connie, our church librarian, and brother to ZEMA's Mike McDowell. He met his wife, Ruth, when they were serving together on a mission trip in the Philippines. They have served with OMF for 18 years, have a special heart for ministry to the urban poor in Quezon City, Philippines through traditional church, discipleship, Sunday School, and youth worship and have additional ministries such as their vibrant Beyond Basketball Ministries (B.B.M.) with half-time bible teaching. Mark and Ruth have two teenage daughters: Rainbow, in her first year at Moody, and Gloria, 16.
prayer & praise requests…
For ministry out of the McDowells' house, as well as for spiritual protection and many co-laborers, and for the gospel to continue to impact their area.
B.B.M. has raised around $200,000 toward a new land lot in Batasan, but still needs about $50,000.
For Rainbow in her second semester at Moody, including ministry and evangelism opportunities.
For more info about OMF's ministry in Southeast Asia, go to OMF Philippines.
---
Paul & Carol Suzuki with SEND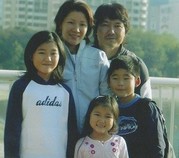 Paul & Carol Suzuki serve with SEND in Japan, which has a population of 127,000,000. While the people have freedom of religion, the rising power of nationalistic Shintoism is threatening that freedom. Over 80% of Japanese claim no personal religion, but most follow the traditions of Buddhism and Shintoism.
Japan is the largest non-evangelized nation that is completely open to missionaries. Yet, due to the spiritual, socio-cultural, linguistic and financial difficulties, becoming an effective ministry of the gospel is a long, hard process of adaptation.
Since 1994, Paul & Carol have partnered with Hi-b.a (High School Born-Againers – taken from John 3:3) in Japan to entrust the gospel of Jesus Christ to young people and train them to do the same for others. Paul is currently the Area Director for SEND Japan and loves sports, dark roast coffee, and mentoring young leaders. Carol draws young Japanese moms to Christ by cooking and caring for them and their kids along with Bible studies and English programs. Their three children currently attend an international school, after being in the local Japanese elementary school for many years. They speak English at home, and Japanese at church as well as in the neighborhood.
MARCH 2020 NEWSLETTER
Paul can be contacted through LinkedIn or Facebook. Go to SEND International to find out more about their ministries.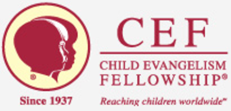 Child Evangelism Fellowship is a Bible-centered, worldwide organization that is dedicated to seeing every child reached with the Gospel of the Lord Jesus Christ, discipled and established in a local church.
CEF has many different ministries for children, but the three primary ones are the Good News Club,the 5-Day Club and the Truth Chasers Club.
The Good News Cluband5-Day Club   ministries take place in neighborhood settings such as homes, backyards, schools and community centers. These fast-paced, one-hour programs deliver the Gospel of Christ to children on their level in their environment.
The Truth Chasers Clubisan exciting Bible correspondence course designed to disciple children and adults that has reached over 483,000 people (70% children) in more than 130 countries!
Along with these clubs,CEFalso has fair, camping, open-air, and internet ministries for children that reached over 14 million children worldwide with the good news.
CEF provides classes to train their workers and other Christians who are burdened for evangelizing children.
Training Christians to effectively minister to children has been core to our ministry since it was founded in 1937. Training is offered throughout the USA and around the world through seminars, conferences, and formal courses.
The Children's Ministries Institute, a modular 3-month course located at CEF International Headquarters provides quality, practical training for those called to take the Gospel to children.
Please visit the Child Evangelism Fellowship website for more information.
---

The Family Resource Center of Zion is an independent, not-for-profit organization that provides educational services and resources to empower men and women to make informed choices regarding pregnancy and parenting skills. This includes peer counseling and training in life skills. All services are free and confidential.
FRCZ is affiliated with the Care Net organization. Care Net and their network of more than 1,100 pregnancy centers nationwide offers hope to women facing unplanned pregnancies by providing practical help and emotional support. Free pregnancy tests, ultrasounds, abortion information, parenting classes, and material assistance are just some of the many services offered that empower women to choose life.
The ultimate aim of Care Net and its network of pregnancy centers is to share the love and truth of Jesus Christ in both word and deed. As a result, the hearts of women and men are being changed by Christ's love. In addition, those struggling with past abortions are finding God's healing and forgiveness.
Always grateful for help, volunteers from the community may know the women and men facing unexpected pregnancies. They are our neighbors, classmates, friends, relatives and even those sitting in the pews next to us. They are married and single; rich and poor; teens and adults; different races, cultures, religions, or claim no religion.
All too often women and men are forced to deal with the uncertainty and trauma of an unexpected pregnancy alone. During that time, they may need someone to turn to for help. If you have a heart for ministry and want to help, you are encouraged to contact Family Resource Center of Zion.
There are many ways to serve – whether you have time once a month, once a week or several days each week. There are opportunities for women and men.
Please visit the FRCZ website for more information or to volunteer.
---
Love INC was founded in 1977 as a way to encourage churches to become more engaged with people with needs in their community. It was designed to inspire a greater number of Christians to put their faith into action.
Love INC's founder, Dr. Virgil Gulker, was a social worker and outreach director in Holland, Michigan, in the late 1970s. Deeply committed to helping people who found themselves in need and lacking resources or a support network, he was certain God had called Christian churches to the same mission.
As he talked to church members and pastors, Dr. Gulker came to understand that Christians did indeed want to help people who had needs, but they did not know how to do so. Many times people did not even recognize that they were gifted in ways that could have a positive, life-changing impact on someone else's life.
It was clear to Dr. Gulker that if churches were to better serve their communities, they needed leadership, organization, training, encouragement, and prayer. He developed the Love INC model to fill these critical roles. Love INC taught churches to assess their capabilities. It also unified local congregations so that, working together, they could more effectively help their neighbors.
Vision: Imagine what the world would look like if every Christian were maximally utilized living out their faith by serving others… Our vision is to see Christian churches in every community in this country and around the world united in the purpose of ministering the love of Christ to anyone in need in their area through the partnering strategy and model we call Love In the Name of Christ.
Mission: Love In the Name of Christ exists only to help churches mobilize their members to be the hands and feet of Christ in their communities. As Christians, we are called to show the love of Christ to those in need. It is only through the love of Christ, living in and reflected by his people, that lives burdened and broken by the world can be transformed into wholeness. When local churches, united in the purpose of showing Christ's love in their community, come together they are a powerful force for transformation, not only to individuals and families, but also to the entire community.
Please go to the Love INC website for more information about this ministry.